What is the PKA Micro-Needle's market potential?

The market calls for an alternative to the commonplace syringe, the dominant injection device, which has not significantly changed in nearly 170 years. PKA SoftTouch Corp. was founded to bring its unique and revolutionary device to the growing injectable drug marketplace.
Potential markets are diabetes, tuberculosis-screening, heparin, pediatrics, obesity drugs, treatment for opioid overdose and pain medications. The device also has high potential use in vaccination markets internationally to control the spread of viruses, Coronavirus, Malaria, the Ebola virus, Diptheria, Cholera, Typhoid and other life-threatening diseases.
COVID-19 PANDEMIC:
Sickened millions and caused over 600,000 deaths worldwide
World is racing to develop a vaccine
Very high likelihood COVID-19 vaccine months, not years away*
Canada's Medicago begins first human trials of plant-based COVID-19 vaccine'… First vaccine from Canada among the more than 20 experimental coronavirus vaccines being tested on humans'**
Thumb-sized, inexpensive, pain-free, pre-loaded, disposable could be the answer to global scale delivery.
*National Post June 12 2020 **National Post July 14 2020
BY 2024:
The animal health drug market in Canada is on track to reach $1.3 billion*
The market potential for global human diabetes is expected to reach $49 billion**
The market potential for global vaccines and other drugs market is expected to reach $779 billion***
*Mordon Intelligence **IDF Diabetes Atlas 9th Edition 2019 ***Zion Market research
Market Potential by 2024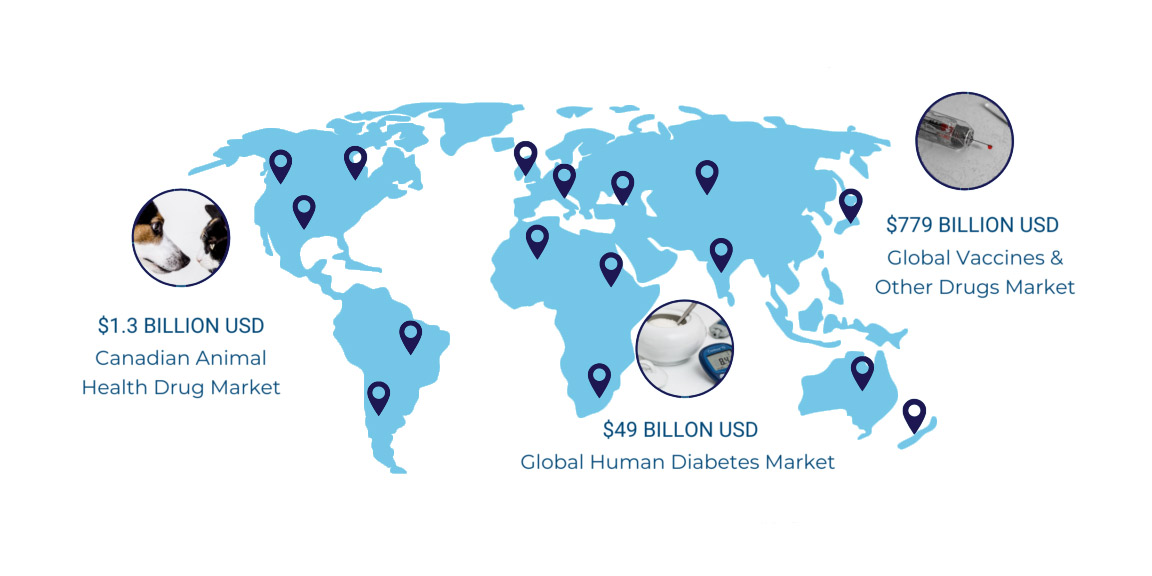 The PKA SoftTouch is Patented in 19 Countries – with more Patents Pending.
NORTH AMERICAN INSULIN MARKET POTENTIAL BY 2024
Insulin is the largest injectable drug market worldwide with the global diabetes market continuing to grow at an alarming rate.
By 2060 it is anticipated that one in three adults in the United States will be diabetic (or 68 million people). Diagnosed diabetes in Canada and the U.S. is expected to increase 171 percent from 2014 to 2060***. This growth rate reflects both the increased prevalence among the older demographic as well as the increased prevalence of obesity and related diabetes risk factors among youth. In the context of this growth in the patient population, diabetes disease management and technology must evolve at a greater rate. PKA aims to be part of the solution.
For these reasons, the initial geographical market focus for PKA is the United States and Canada.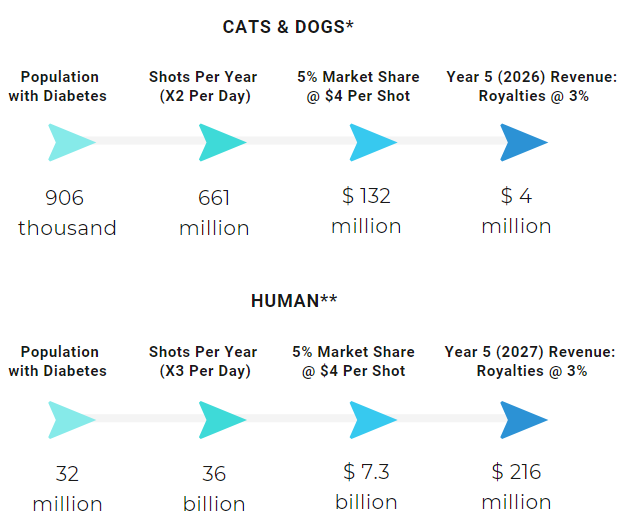 *Canada (2018) & USA (2017) Sources: Canadian Animal Health Institute, American Veterinary Medical Association, Statista. com ** Canada (2017) & USA (2017) Sources: Healthline, Government of Canada ***International Diabetes Federation, Diabetes Atlas, 5th Ed. :The Global Burden
For further details on this investment offering and how to invest, please click below.
LEARN MORE
If you have additional questions, please contacts us.